New PARKER PLANT RoadStar 2000 asphalt plant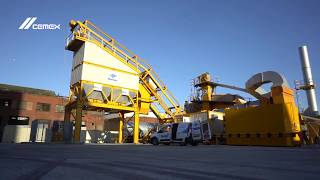 1/13
Year of manufacture
05/2022
Location
United Kingdom
Need delivery?
Calculate the cost of delivery
The brand new Parker RoadStar 2000 mobile asphalt plant on a wheeled chassis.

Capacity - 160 tph.

Batch type.

RoadStar 2000 is a high quality mobile batch production asphalt plant and is manufactured in our factory in Leicester, UK.

The RoadStar range perfect for contracts that require asphalt plants with high mobility and substantially reduced dismantling and re-installation costs.

The RoadStar 2000 is fully tested and commissioned prior to leaving our factory, thus rendering a rapid installation time with minimal site foundations and craneage required. Furthermore, due to its unique design, it is perfect for asphalt projects that require high mobility, environmental compliance and quality assurance of the final mix.

Dismantling, relocation, assembly and start-up - just a few days.
Новият мобилен завод за асфалт Parker RoadStar 2000 на колесно шаси.

Производителност - 160 т / ч.

Цикличен тип действие.

RoadStar 2000 е най-висококачествената мобилен завод за смесване на асфалт, произведена в Лестър, Великобритания.

Серията Parker RoadStar е идеална за договори, изискващи високо мобилни асфалтосмесителни инсталации и минимални разходи за демонтаж и повторно инсталиране.

Асфалтовият завод RoadStar 2000 (както всеки друг модел на Parker) е напълно сглобен, пуснат в експлоатация и тестван преди да напусне нашето производствено съоръжение, като минимизира времето за монтаж на място.
В същото време този завод има минимални изисквания за предварителното подреждане на обекта, разходите за фундамента и работата на крана по време на монтажа.
В допълнение, благодарение на уникалния си дизайн, той е идеален за проекти, изискващи висока мобилност, екологично съответствие и най-високо качество на крайната асфалтова смес.

Демонтаж, преместване, сглобяване и пускане в експлоатация - само няколко дни.
Nowa mobilna asfaltownia Parker RoadStar 2000 na podwoziu kołowym.

Wydajność - 160 t / h.

Cykliczny typ działania.

RoadStar 2000 to najwyższej jakości mobilna mieszalnia asfaltu wyprodukowana w Leicester w Wielkiej Brytanii.

Linia Parker RoadStar jest idealna dla kontraktów wymagających wysokiej mobilności wytwórni asfaltu i minimalnych kosztów demontażu, przeniesienia i ponownej instalacji.

Wytwórnia asfaltu RoadStar 2000 (jak każdy inny model firmy Parker) jest w pełni zmontowana, uruchomiona i przetestowana przed opuszczeniem naszego zakładu produkcyjnego, co skraca czas instalacji na miejscu.
Jednocześnie zakład ma minimalne wymagania co do wstępnej aranżacji terenu, kosztów posadowienia i prac dźwigowych podczas montażu.

Dodatkowo dzięki unikalnemu projektowi idealnie nadaje się do projektów wymagających dużej mobilności, zgodności z wymogami ochrony środowiska oraz najwyższej jakości końcowej mieszanki asfaltowej.

Demontaż, relokacja, montaż i uruchomienie - zaledwie kilka dni.
Новый мобильный асфальтный завод Parker RoadStar 2000 на колесном шасси.

Производительность - 160 т.ч.

Циклического типа действия.

RoadStar 2000 - это мобильный асфальтосмесительный завод высочайшего качества, который произведен в г. Лестер, Великобритания.

Модельный ряд заводов Parker RoadStar идеально подходит для контрактов, требующих высокой мобильности асфальтобетонных заводов и минимального уровня затрат на демонтаж и повторную установку.

Асфальтный завод RoadStar 2000 (как и любая другая модель заводов Parker), перед тем, как покинуть наше производство - полностью собирается, запускается и тестируется, что минимизирует время установки на площадке заказчика.
При этом завод имеет минимальные требования по предварительному обустройству площадки, затратам на фундамент и крановым работам при сборке.
Кроме того, благодаря своему уникальному дизайну, он идеально подходит для проектов, требующих высокой мобильности, соблюдения экологических требований и обеспечения высочайшего качества конечной асфальтной смеси.

Демонтаж, перебазировка, сборка и запуск - всего несколько дней.
Новий мобільний асфальтний завод Parker RoadStar 2000 на колісному шассі.

Потужність - 160 т/г.

Циклічного типу дії.

RoadStar 2000 - це мобільний асфальтозмішувальний завод найвищої якості, який зроблений в м Лестер, Великобританія.

Модельний ряд заводів Parker RoadStar ідеально підходить для контрактів, що вимагають високої мобільності асфальтобетонних заводів і мінімального рівня витрат на демонтаж і повторну установку.

Асфальтний завод RoadStar 2000 (як і будь-яка інша модель заводів Parker), перед тим, як покинути наше виробництво - повністю збирається, запускається і тестується, що мінімізує час установки на майданчику замовника.
При цьому завод має мінімальні вимоги щодо облаштування майданчика, витрат на фундамент і кранових робіт при сбірці.
Крім того, завдяки своєму унікальному дизайну, він ідеально підходить для проектів, що вимагають високої мобільності, дотримання екологічних вимог та забезпечення високої якості кінцевої асфальтної суміші.

Демонтаж, перебазування, сбірка і запуск - всього декілька днів.
Important
This offer is for guidance only. Please request more precise information from the seller.
Safety tips
Seller's contacts
Parker Plant LTD
Seller with Machineryline for 3 years
The phone numbers have been checked
Evgeniy
Languages:
English, Ukrainian, Russian
Mon - Fri
09:00 am - 06:00 pm
United Kingdom, England, LE7 7WJ
Selling machinery or vehicles?
You can do it with us!