You may find interesting
Close
New PI MAKINA 100 m3 MOBILE TWIN SHAFT BATCHING PLANT - CENTRALE A BETON MOBIL
price on request
New PI MAKINA 60 m3/H MOBILE BATCHING PLANT - CENTRALE A BETON MOBILE - BETON
price on request
New PI MAKINA 180M3/H TWIN SHAFT BATCHING PLANT - CENTRALE A BETON - BETON SAN
price on request
New PI MAKINA 100-120 m3/H STATIONARY CONCRETE BATCHING PLANT - CENTRALE A BET
price on request
New ASUR MAKİNA BOLTED CEMENT SİLOS
price on request
New FABO 60m3/h NEW GENERATION MOBILE CONCRETE PLANT
price on request
New PI MAKINA 30-60 m3/h COMPACT CONCRETE BATCHING PLANT - CENTRALE A BETON CO concrete plant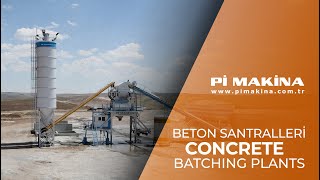 1/11
Model
30-60 m3/h COMPACT CONCRETE BATCHING PLANT - CENTRALE A BETON CO
Year of manufacture
01/2021
Location
Turkey
Ankara
Placed on
more than 1 month
Remote inspection
Request an independent technical inspection
Need delivery?
Calculate the cost of delivery
The group of Pi Makina Concrete Batching Plant products includes Bucket, Belt and Scraper types of Stationary Concrete Batching Plants and the Mobile Concrete Batching Plant. Every type of concrete batching plants are manufactured, ranging from 30-35 m3/hr to 540 m3/hr in capacity....
تعد بي ماكينة, أول منتج لمحطات خلط الخرسانة في تركيا. وتقوم الشركة بإنتاج نماذج مختلفة
من محطات الخراسانة, تعمل بسعة استعابية إبتداء 30 متر مكعب إلى 360 متر مكعب في
الساعة, لتلبية كافة الاحتياجات. وتفضل محطات الخرسانة الجاهزة, من قبل شركات المقاولة
وشركات إنتاج حجر الرصف. وتتشكل محطات خلط الخرسانة من محطات خرسانة متنقلة,
ومحطات خرسانة شريطية, ومحطات خرسانة مدمجة, ومحطات خرسانة حجر الرصف.
Le premier fabricant turc de PI Makina Concrete Plant produit des modèles qui peuvent produire différents modèles de béton jusqu'à 360 m3 par heure à partir de 30 m3 pour répondre à différents besoins. Nos usines sont particulièrement préférées par les producteurs de béton prêt à l'emploi, les entrepreneurs, les pavés et les producteurs d'éléments préfabriqués. La centrale à béton est composée de notre gamme de produits, d'une usine de béton mobile, d'une usine de béton à bandes, d'une centrale à béton compact et d'une usine de béton préfabriqué.
Pi Makina является первым производителем бетоносмесительной установки в Турции. Мы производим различные бетоносмесительные установки с производством от 30 м3 в час до 300 м3 в час. Наши бетоносмесительные установки особенно предпочтительны для производителей готового бетона, подрядчиков, производителей тротуарных плиток и бетонных панелей. Линейка бетоносмесительных
установок состоит из мобильных БСУ, конвейерных БСУ, компактных БСУ и БСУ для производства бетонных панелей и тротуарных плиток.
Türkiye'nin ilk Beton Santrali üreticisi Pi Makina farklı ihtiyaçları karşılamak üzere saatte 30m3 den 360m3'e kadar beton üretebilen farklı modellere modeller üretmektedir. Santrallerimiz özellikle hazır beton üreticileri, müteahhit firmalar, parke taşı ve prekast imalatçıları tarafından tercih edilmektedir. Beton Santrali ürün skalamız, mobil beton santrali, bantlı beton santrali, kompakt beton santrali ve prekast parke taşı beton santralinden oluşmaktadır.
Important
This offer is for guidance only. Please request more precise information from the seller.
Safety tips
Seller's contacts
İlayda Sales Support
Languages:
English, French, Turkish, Russian, Arabic
Turkey, Central Anatolia, 06831, Ankara, G.O.P Mah. 79/1 Sok. No:6 PK:10-11 Gölbaşı
Seller's local time: 09:16 pm (+03)
Selling machinery or vehicles?
You can do it with us!